Front-line workers have been working tirelessly to help save lives during this pandemic. But as Covid-19 rages on, they need our help now more than ever to encourage and support them through these difficult times.
We can do our part to show our love an appreciation toward those that have sacrificed so much for the well-being of our friends and family. Here are just a couple way we can contribute:
1. Wear Masks
Wear a mask when you go out in public to stop the spread of Covid-19. The less people get the virus, the less people have to go into the hospitals. Help them keep our hospitals safe and under control by doing all you can to protect yourself and others
2. Donate masks, gloves, sanitizer etc to hospitals, grocery stores, post offices etc.
During this time there is a shortage of PPE equipment for nurses and doctors due to the high demand across the country. But they need it now more than ever! You can help by donating masks, gloves, sanitizer to hospitals and clinics so our essential workers can keep doing their job to save lives.
You can also help by making masks and other protective equipment and donating your awesome creations to workers in need.
3. Write a thank you note
Show appreciation to front-line workers by writing them thank you notes. Get your whole family involved and have your kids draw or write cute thank you cards to send to hospitals and/or doctors offices.
4. Send them a treat or food
Essential workers are people too and they have to eat. Why not donate or send them a yummy treat like Crumbl Cookies or a delicious lunch from Subway or any other restaurant that delivers.
5. Create a sign
Get your kids together and create a sign full of love and appreciation. Hang it in your windows for everyone to see or send it to a hospital or office so they can hang it up and look at your encouraging poster everyday.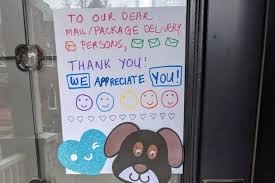 6. Stay home
Staying home may not sound appealing but your sacrifice truly helps front-line workers. Help slow the spread of Covid and keep people out of the hospitals as much as possible by limiting your exposure to others.
7. Social Media
Social media today is more impactful than ever. Voice your appreciation for essential workers over social media and help spread the love to thousands of people. Social media is a perfect way to get more people involved to help our front-line workers get the supplies and appreciation they need right now.
8. Be kind
Be kind to essential works and show appreciation when you come in contact with someone. Be sure to complement or thank waiters, grocery works, doctors, etc. when you can. Even a short positive comment can go a long way especially during difficult times.
9. Give them a tip when applicable
Give your waitress or restaurant worker a generous tip. They are working non-stop to help you get your favorite meals while risking their lives and their families lives. Show them your appreciation for their hard work by tipping them.
10. Donate to charity
Donate to any of the many charities that are striving to help those impacted by Covid and essential workers during this pandemic. Some of these organizations are: Covid-19 Relief Fund, Feeding America, and Project HOPE. For a list of charities that are directly supporting Covid relief efforts click this link.
11. Donate to relief fund or go fund me's
Know of someone who was heavily impacted by Covid-19? Start or donate to a relief fund that could help them or their families out of their tough situation. Many essential workers need help with bills or have families that have been impacted financially. Help them by donating what you can to give them a little relief during these stressful times.
12. Help neighbors or relatives that are nurses or doctors with childcare
Is one of your relatives or neighbors an essential worker? You can help them a lot by offering to take care of their children while they work their long shifts. Or you can also go grocery shopping for them while they're working or cook/deliver them a hot meal. Let them know you support them while they are trying to help the lives of those around them.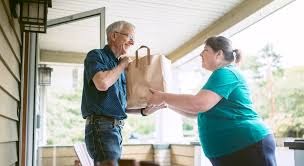 These are just a couple of ways to show thanks towards them. But there are countless ways to show gratitude towards our masked heroes. Do your best to help our front-line workers during this hard time. They need all the love and support we can give them!