When thinking about planning your brand launch, starting a rebranding project, or just making an update to refesh your brand, design is likely one of the first things that comes to mind. We met with the Vice President of the Namify Creative team, Joe Brown, to find out what his best tips are to create powerful designs that look great on printed products, add meaning behind a brand and stand out in a crowd.
Maintain Brand Consistency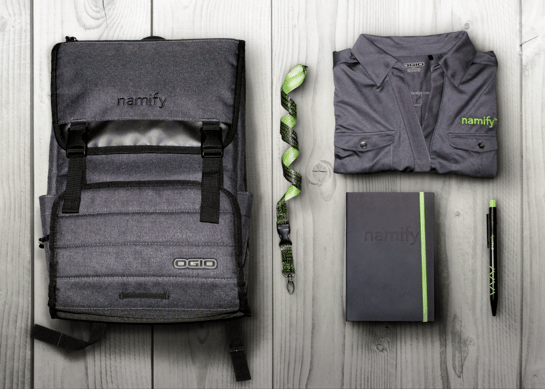 Many organizations overlook brand consistency, which is maintaining the same logo throughout all of your internal and external communications.
Your logo may have different subtle variations, like a text version and a logo-only version, but it should have the same font style, colors, and overall theme pertaining to your published brand style guide.
Recognizability is one of the greatest factors that consumers take into consideration when it comes to trusting a brand. A consistent brand style will not only make your brand appear more professional, it will also help your audience remember who you are by associating your brand with your products.
Consider The Scale
How would your logo look embroidered on a shirt or backpack, or printed on smaller items like a lanyard/pen? These are all things you should consider when designing or modifying your logo. Have multiple (yet similar) variations of your logo that you can use on different-sized items so you don't run into problems later on when you send items to print.
Also, think about the 5, 15, 50 rule - what is your audience going to see from 5 feet away? Or from as far as 50 feet? If there is there a clear message that is perceivable from all of these distances, then your design will be much more successful. This rule is especially useful for outdoor signage such as billboards, signs and banners, which is why it's important to have large text accompanied by smaller text or an image that makes the message clear.
Make your call-to-action the highlight of the ad, so a general rule of thumb is to keep phone numbers or web addresses as the main focus so those passing by your display ad remember your CTA.
Choose Colors And Fonts With A Purpose
The fonts and colors you use in your branding should be meaningful to your brand, not just trendy. Here are a few tips regarding fonts and colors to consider when designing materials for your brand launch:
Primary/Secondary Colors - Have 2-4 primary colors included in your brand style guide and 4-5 secondary colors in your brand style guide. There are great free online tools available to help you develop a color palette for your brand, our favorites are coolors.co for randomly generated palettes that you can customize and color-hex.com for a list of user-generated color palettes.
White/Black Logo Versions - Whether you're designing a website or a t-shirt, it's useful for you to have a white and black version of your logo on hand to work with any color scheme.

Use Contrasting Colors

- Pair warm colors like red, yellow, and orange with cooler colors like blue, purple, and green to create visually appealing graphics. Our previous branding had a limited color palette, so our design added warm and cool colors to compliment the primary green color in our style guide. This opened up more opportunities for eye-catching designs.

Use A Different Color Variation - Another way to make your brand stand out is to use a color variation that is slightly different than the standard colors you'd see more frequently. For example, T-Mobile's magenta is slighty different than other pink hues that are more common and the color alone now is a major identifier for the company.

Be Careful With Thinner Fonts

- Cursive or thin fonts often become distorted when shrinking the image for engravery, embroidery, or smaller web content. Use caution with these fonts and be aware that some script fonts can lose quality or detail when used for small projects.

Avoid Default Fonts For Banners/Signs

- These are the fonts you see everywhere: Times New Roman, Arial, Verdana, etc. These fonts have been used so many times, many people will ignore your text simply because the font is not visually appealing.
Use Vector Artwork
It happens all too often - a client will send their item to be printed or engraved only to realize that the design they paid for is a raster file, not a vector. Raster files may look great on the web, but they don't work for production of most items for a few reaons. Knowing the right kind of file type to use can save you a lot of time and hassle in the future.
Vector artwork is any artwork that was originally created using a program like Adobe Illustrator or Corel Draw - files come in different formats, including: .ai, .eps, .cdr .pdf, and .svg. Vector artwork has hard lines no matter how much you zoom in - the image will never be distorted. This is why vector artwork is used for printing, embroidery, engravery, and most production items because the artwork will be clear and no details will be left out of your design.
Raster artwork on the other hand, is used for most web-based graphics and will have blurry lines when zooming in or printing. That is because rather than generating new pixels to fill the space when the image is expanded, the number of pixels remains the same so the image loses quality. Some examples of raster artwork file types .jpg, .gif, .png, and .tif.