Branded apparel is about so much more than slapping a logo on a t-shirt - it's about bringing meaning to your brand and representing the message that you stand behind. Branded apparel is one of the most powerful ways to make a statement that resonates with your audience. We've seen dozens of companies boost their brand power, audience recognition and company morale through custom apparel, and we wanted to share with you some of the reasons why those apparel choices were so successful:
1. Create The "Tribe Effect" Among Employees & Fans
A sleek logo with a solid meaning behind it is something that anyone can stand behind. Branded apparel one of the best ways to create the "tribe effect" - or in other words, the feeling that every employee takes part in contributing to a larger whole and making a difference. Workfront does an excellent job bringing their employees together through their sleek, logoed apparel that is available in styles and colors that employees want to wear.
The tribe effect not only increases retention as 54% of employees say a strong sense of community keeps them at their company but also will help them feel like they're a part of the company even as a newly hired employee. Apparel is a talking point, and branded apparel is a statement that makes you instantly recognizable as a solid member of the group.
2. Build Brand Recognition
One of the more obvious benefits of branded apparel is that it helps build brand recognition for those who are unfamiliar with your company. Apparel is a conversation starter that unites people through a common interest as mentioned above, which is what makes it a great way to get more people to become familiar with your brand.
3. Generate Hype For A Promotion/Event
Fast food chains, movie theaters, and (once upon a time) video rental stores had this method down. You've probably noticed movie theater employees wearing shirts promoting a new movie, or fast food chain employees wearing a shirt that advertises a new slogan or menu item. Apparel is an attention-grabbing way to raise awareness for an event or promotion and gives your employees a talking point and a fun new article of branded apparel to wear.
One way to really make an impact with this idea is to get creative with your branding style or logo. For one of our own upcoming events, we had our designers create this festive summer-style shirt for our employees to wear (right) while they're attending. While staying consistent with our branding, it also created special interest in the event and word quickly got around as employees got excited about the new and exclusive design.
4.

Affordable Way To Send A Message

Compared to other forms of display advertising like billboards, vehicle wraps, and magazine ads that can cost hundreds of dollars, apparel is one of the most affordable ways to reach your target audience. Rather than paying for a one-time advertising opportunity, every time someone wears your branded apparel you have a potential reach of dozens of people. Plus, changing your messaging or style is easy and can be done frequently with custom apparel.
5. Relate With Causes You Care About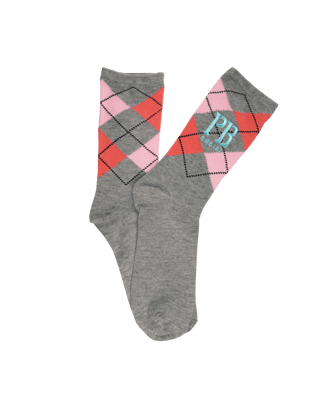 Another way to use branded apparel is to convey a message or cause that your business relates to. 84% of Americans believe that businesses have a responsibility to bring social change. Cause-related marketing goes hand-in-hand with apparel as it's a unique and affordable way to raise awareness for your cause. Think about apparel as more than just brand identity - it's also a statement about what your brand stands for and what it means to be a part of it.
6. Spark Interest In Your Business
Though popular forms of advertising like Google Adwords and Facebook ads cater to our increasingly digital world, word of mouth marketing is still the reigning champion. 92% of consumers believe recommendations from friends and family over all forms of advertising. Branded apparel creates dozens of ambassadors for your business who will (hopefully) spread the good word for you and generate interest, attract new talent, and raise brand recognition.
Punch Bowl Social uses custom embroidered socks as an interesting way to promote and start conversations about their brand. With different color and pattern combinations, these socks are eye-catching and employees love them.
7. Be Universal In Your Branding
Finally, branded apparel is the best way to create a uniform look for your business. Any marketer knows how important a universal brand strategy is in ensuring your audience knows who you are and what you stand for. Custom apparel seals the deal by allowing your employees to promote company culture, helping your audience immediately recognize your brand, and creating a universal look that ensures consistency and repetition of your brand guidelines.
Sources:
1.) 8 Employee Retention Facts That Will Keep You Up At Night - https://www.officevibe.com/blog/8-facts-employee-retention-thatll-keep-night
2.) Statistics Every Cause Marketer Should Know - http://engageforgood.com/guides/statistics-every-cause-marketer-should-know/
3.) Why Word Of Mouth Marketing Is The Most Important Social Media - https://www.forbes.com/sites/kimberlywhitler/2014/07/17/why-word-of-mouth-marketing-is-the-most-important-social-media/#6b5fbc8b54a8